Tripp Lite's TOUCHMASTER COMPACT surge suppressor offers complete AC and phone line surge suppression for comprehensive protection of workstations, desktop PCs, telecom systems and other sensitive electronics. Heavy grade AC surge suppression shields connected equipment from damage and performance problems due to transient surges. RJ11 telephone line suppression jacks protect dialup and DSL modem lines, fax machines, cordless phones and more. TOUCHMASTER COMPACT offers 6 total outlets, 6 foot cord and LEDs to warn of power and wiring problems. Heavy grade AC suppression rated at 1440 joules shields equipment from surges and line noise. Attractive, slim design is perfect for use under desktop computer monitors or notebook computers. Individual switches offer power control over connected equipment. $50,000 Ultimate Lifetime Insurance (U.S., Canada, and Puerto Rico only).
PLUG/OUTLETS: Input: NEMA5-15P/Output: 6 NEMA5-15R/6-ft. AC line cord
ELECTRICAL: 120V AC, 50/60Hz, 15A (Requires NEMA5-15R wall receptacle)
FORMAT: Slim, compact design perfect for use under desktop monitors and notebook computers
SUPPRESSION: AC: 150V RMS Clamping/1440 joules/400V UL1449 3rd Edition
- 6 outlets
- 6-ft. cord with space-saving right-angle plug
- Built-in RJ11 jacks prevent surges from damaging your modem/fax equipment; 6-ft. telephone cord included
- Surge suppression rating: 1440 joules
- EMI/RFI noise filtering
- 15 amp resettable circuit breaker
- Diagnostic LEDs confirm suppressor "protection present" (green), "grounded" (red) status and "power on" (green)
- Always-on outlet provides power for equipment you always need on, even when the "master" switch is off
- Includes full normal mode (H-N) and common mode (N-G/H-G) line surge suppression
- Allows for the computer to be controlled by the "master" switch and other outlets to be controlled either the "master" switch or corresponding switch on the front panel
- $50,000 Ultimate Lifetime Insurance (U.S., Canada, and Puerto Rico only) covers connected equipment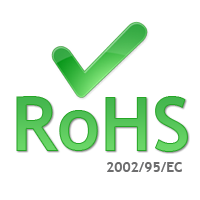 The electrical or electronic product contains little or no Hazardous Substances (RoHS). Any RoHS compliant product is tested for the presence of Lead (Pb), Cadmium (Cd), Mercury (Hg), Hexavalent chromium (Hex-Cr), Polybrominated biphenyls (PBB), and Polybrominated diphenyl ethers (PBDE). PBB and PBDE are flame retardants used in several plastics. For Cadmium and Hexavalent chromium, there must be less than 0.01% of the substance by weight. For Lead, PBB, and PBDE, there must be no more than 0.1% of the material. Any RoHS compliant component must have 100 ppm or less of mercury and the mercury must not have been intentionally added to the component.
Expanded Description:
Tripp Lite TMC-6. Surge energy rating: 1440 J, AC outlets quantity: 6 AC outlet(s), AC outlet types: NEMA 5–15R. Cable length: 70.9" (1.8 m), Power plug: NEMA 5–15P. Color of product: Black. Weight: 2.8 lbs (1.27 kg), Width: 11.5" (292.1 mm), Depth: 12" (304.8 mm). Material: Plastic