Batteries not Required to Operate
Tripp Lite's 0.91 m (3-ft.) DVI - HDMI ( High Definition Multimedia Interface ) cable allows interconnection between digital display devices, such as DTV's ( Digital Television ), Plasma displays, LCD TV's, and projectors, to Digital source devices, such as Digital Set-Top boxes, DVD/DVD-R players, and AV receivers. HDMI DTV's will display video received from existing DVI-equipped products, and DVI-equipped TVs will display video from HDMI sources. HDMI technology uses a much more compact and user-friendly connector than the existing DVI connector. The HDMI specification handles higher-bandwidth, uncompressed video, and multi-channel digital audio, all in one neat cable solution. (DVI-HDMI cable supports digital video only).
- Premium Double Shielded Digital Video Cable
- Gold plated connectors provide low-loss
- Bandwidth up to 5Gbps
- DVI - HDMI, 0.91 m (3-ft.)

- 0.91 m (3-ft.) HDMI to DVI Gold Digital Video Cable (HDMI-M / DVI-M)

- 0.91 m (3-ft.) DVI to HDMI Adapter Cable
- Creates a pure digital connection between a DVI-enabled computer and a HDMI-enabled display or TV
- Gold plated connectors provide optimal signal transfer
- Premium Double-Shielded HDMI compliant cable protects against outside noise (EMI/RFI)
- Impedance matched twisted pair construction reduces cross-talk and interference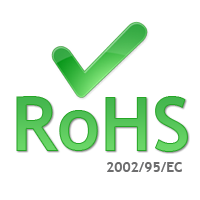 The electrical or electronic product contains little or no Hazardous Substances (RoHS). Any RoHS compliant product is tested for the presence of Lead (Pb), Cadmium (Cd), Mercury (Hg), Hexavalent chromium (Hex-Cr), Polybrominated biphenyls (PBB), and Polybrominated diphenyl ethers (PBDE). PBB and PBDE are flame retardants used in several plastics. For Cadmium and Hexavalent chromium, there must be less than 0.01% of the substance by weight. For Lead, PBB, and PBDE, there must be no more than 0.1% of the material. Any RoHS compliant component must have 100 ppm or less of mercury and the mercury must not have been intentionally added to the component.