Tripp Lites P032-002-2C13, 2ft Universal AC Power Cord Splitter, allows you to connect two devices with C14 connections, such as servers, to one power outlet. Cuts down on cabling, as well as frees up space on UPS's, Surge Protectors, PDU's etc. Heavy gauge 14AWG (2.08mm˛) wire handles 15Amps, and 100-250 Voltage range.
- Power two computers or other device from one outlet
- Plug type - C20 to 2 x C13
- 14AWG (2.08mm˛), SJTW, 15A, 100-250V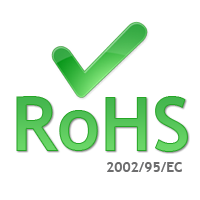 The electrical or electronic product contains little or no Hazardous Substances (RoHS). Any RoHS compliant product is tested for the presence of Lead (Pb), Cadmium (Cd), Mercury (Hg), Hexavalent chromium (Hex-Cr), Polybrominated biphenyls (PBB), and Polybrominated diphenyl ethers (PBDE). PBB and PBDE are flame retardants used in several plastics. For Cadmium and Hexavalent chromium, there must be less than 0.01% of the substance by weight. For Lead, PBB, and PBDE, there must be no more than 0.1% of the material. Any RoHS compliant component must have 100 ppm or less of mercury and the mercury must not have been intentionally added to the component.