Tripp Lite's line of AC power cords offer PC users a solution to their power connectivity problems. This 1.83 m (6-ft.) cable will replace the power cable on most computers and peripherals that have a removable power cord. Cable features an AC style plug (NEMA 5-15P) on one end and a computer style receptacle (IEC-320-C13) on the other end. Right Angle exit allows room for the power cable in tight situations, such as against a wall. UL Listed.

- Plug type - NEMA 5-15P (AC) to IEC-320-C13 (Device) Right Angle
- 18AWG (0.824mm˛), SJT, 10A, 125V
- UL Listed
- C13 Right Angle exit ideal for tight spaces
- 1.83 m (6-ft.). replacement power cable for a PC, printer, monitor or any other device with like plugs
- Universal design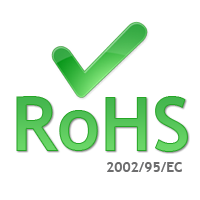 The electrical or electronic product contains little or no Hazardous Substances (RoHS). Any RoHS compliant product is tested for the presence of Lead (Pb), Cadmium (Cd), Mercury (Hg), Hexavalent chromium (Hex-Cr), Polybrominated biphenyls (PBB), and Polybrominated diphenyl ethers (PBDE). PBB and PBDE are flame retardants used in several plastics. For Cadmium and Hexavalent chromium, there must be less than 0.01% of the substance by weight. For Lead, PBB, and PBDE, there must be no more than 0.1% of the material. Any RoHS compliant component must have 100 ppm or less of mercury and the mercury must not have been intentionally added to the component.